Do you want your next President to be a true defender of innocent, unborn life?

A President who will not rest until Roe v. Wade is overturned.

A President who has a rock-solid 100% pro-life record.

If that's the kind of person you want as your next President, then I hope you'll join my "Brownback for President" Campaign Team today.

To put it frankly, I need your support to become the Republican nominee for President. I can't do this without the full support of pro-lifers like you.

I hope you'll help me in my campaign to make sure that a dedicated, life-long pro-life activist is elected President in 2008.

I decided to run for President because I want God-fearing, pro-life Americans like you to be able to have a nominee you can believe in and can vote for and support proudly -- without reservation.

You shouldn't have to settle for a Republican nominee who is hostile to your beliefs or simply pays "lip-service" to our pro-life cause.

The fact is, there are many people vying for the Republican nomination for President...

... but I am the one candidate who has a spotless record of leading the fight to defend life.

Focus on the Family senior director Carrie Gordon Earll says of me:

"Brownback, he's a known commodity. Some of the other people who've thrown their hat in the ring, there's debate. Have they always been pro-life? Nobody questions Sam Brownback."

Tony Perkins, President of the Family Research Council, states:

"Senator Brownback is unrivaled as an advocate for the family and for life in Washington. What Sam has that is unique, is that he has a pro-life, pro-family message."

And Father Frank Pavone of Priests for Life has called me:

" ... a man whom we love and whom we admire, whom we look to and have looked to for leadership and have not been disappointed."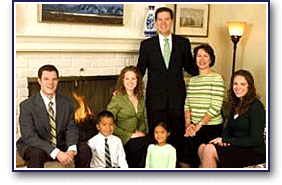 Over the past decade, I have been a leader in the Senate fighting for pro-life measures and policies.

And as the father of five beautiful children -- two of whom were adopted -- I have promoted measures that would strengthen families and encourage adoption.

As President, I will remain sincerely committed to:
| | |
| --- | --- |
| | Fostering a culture of life -- every human life is a beautiful, sacred, unique child of a loving God. |
| | Supporting mothers, families, and babies to eliminate the need for abortion. |
| | Appointing justices to Supreme Court who are "strict constructionists" ... justices who will overturn bad and immoral laws like Roe v. Wade. |
| | Renewing our families and rebuilding our culture. |
If that is an agenda that excites you as a dedicated pro-life American, I hope you'll join my Campaign Team today.

When I spoke at the "March for Life" last week, I was deeply impressed by the power that the pro-life grassroots movement possesses.

I truly believe that the strength of our convictions can be the most powerful force in this election!

The support of Americans like you gives me the energy and the courage to undertake this campaign, and gives me confidence that we can win!

But I can't do it without you.

While no other candidate running for President in 2008 can match my conservative, pro-life credentials...

Some of them do have a higher "name I.D." than I do.

And as a result, they've been able to build an early fundraising "head start" on me.

But I believe that I can make up for this fundraising gap by organizing and motivating the millions of pro-lifers in America to rally behind my campaign.

Your support and dedication matters much more than the other candidates' "cash-on-hand."

With millions of Americans like you behind me, I know that I can win the Republican nomination and defeat a pro-abortion liberal like Hillary Clinton in the 2008 election!

To accomplish this, I need a commitment from you.

Will you support our campaign with a gift of $100, $500, or as much as $2,300?

The respected National Journal has listed me in the top tier of Republican candidates, and has called me "the only unquestioned social conservative in the race."

But I need to show that I can translate this into real support from pro-life social conservatives like you.

Your gift -- be it as little as $35 or as much as $2,300 -- answers this question loud and clear!

The maximum you are allowed by law to give is $2,300. And I will need some "maximum" gifts to make up ground on my "higher name I.D." opponents.

But don't underestimate the impact that gifts of $35, $50, or $100 can have as well.

I thank you for whatever you can give today, as well as for your prayers and support.

For Life,



Senator Sam Brownback

P.S. If you are the committed pro-life American that I know you are... then I urge you to join my "Brownback for President" Campaign Team by donating your gift of $35, $100, $500 or $2,300 today. Thank you.

P.P.S. Please forward this email to at least 10 of your friends and members of your family who are as committed to the pro-life movement as you are. Thank you.

PAID FOR BY BROWNBACK FOR PRESIDENT